Back in May 2018, I was experiencing one of the worst moments of my life. My business was not profitable, with debts piling up. Some of my employees hadn't been paid for months. I had no salary myself while I could have been making over 100K€ working for someone else. We did have customers and decent revenue, but it was not enough to pay for expenses dimensioned for an exponential growth that never came. I should have quit and taken the first job around, but couldn't resolve to work for someone else, mainly because I was able to acquire customers and generate revenue. So I did something crazy.
I let everyone in my team go and decided to keep running the business on my own until it became profitable. Around this time, I stumbled upon a statistic that completely changed my mind on one-person businesses. According to Elaine Pofeldt, the author of The million-dollar one-person business, the number of ultra-lean, one-person businesses that are reaching and exceeding $1 million in revenue has been steadily growing over the past years. In 2015, 35 584 "nonemployer" firms brought in $1 to $2,5 million in annual revenue!
So while I was struggling to make a profit with a whole team, individuals were making hundreds of thousands, even millions, on their own. Two years and a few iterations later, I am now a fully functioning one-person business, making a more than decent income working from home, and a part of what is now called the Passion Economy.
The passion economy
Coined in late 2019 by former A16Z partner Li Jin, the Passion Economy is a new term used to describe individuals taking advantage of digital platforms to make money off their unique skills. Like Ben Thompson, the editor of technology strategy newsletter Stratecherry, who will be making an estimated $3 million in profits this year. Or like former high school teacher Rob Percival, who brings home $150,000 per month teaching web development online. And they're not isolated examples. According to a study from Recreate of nine digital platforms, 17 million Americans earned nearly $7 billion in income from their independent creations in 2017, and this number is growing at nearly 20% per year. And this is not counting many other platforms, including e-learning platforms like Udemy.
Individuals have been trying to make money online for more than a decade (remember the "how to make money blogging" wave?). Why is now the moment for one-person digital businesses? I believe this is thanks to the following three trends.
People (and businesses) spend more online
Over the past decade, money spent online has been growing steadily. On top of e-commerce (which now accounts for 13.2% of total retail sales in Western Europe), consumers have also picked up the habit of buying much more services online, like music, movies, online courses, ebooks… What's even more interesting is that they are also more and more trusting individuals over brands for online services. In the media space, while radio revenue has been stalling for years, new individuals (or small groups like Chapo Trap House) are now making millions of dollars in listeners' donations.
Corporations are also more trusting individuals, with the use of freelancers increasing and taking root in medium-sized to large enterprises. According to data from freelancing platform Upwork, 53 per cent of hiring managers agree that companies are embracing more freelancers as compared to three years ago, and 64 per cent of freelancers found their customers online.
New monetisation opportunities for creators
Once upon a time on the Internet, the only way for individuals to make money was through advertising. It was (and still is) hard. To make $1,000 on YouTube, you need millions of views. To get an influencer marketing deal on Instagram, you need hundreds of thousands of followers. But fortunately for creators, new platforms are now allowing them to get paid directly by their fans through subscriptions or product sales rather than relying on ads or brand deals.
Platforms like Patreon or Buy Me a Coffee, allow creators to receive donations from fans or set up memberships plans. At the time of writing, there are now over 170,000 creators on Patreon earning more than twenty million dollars monthly.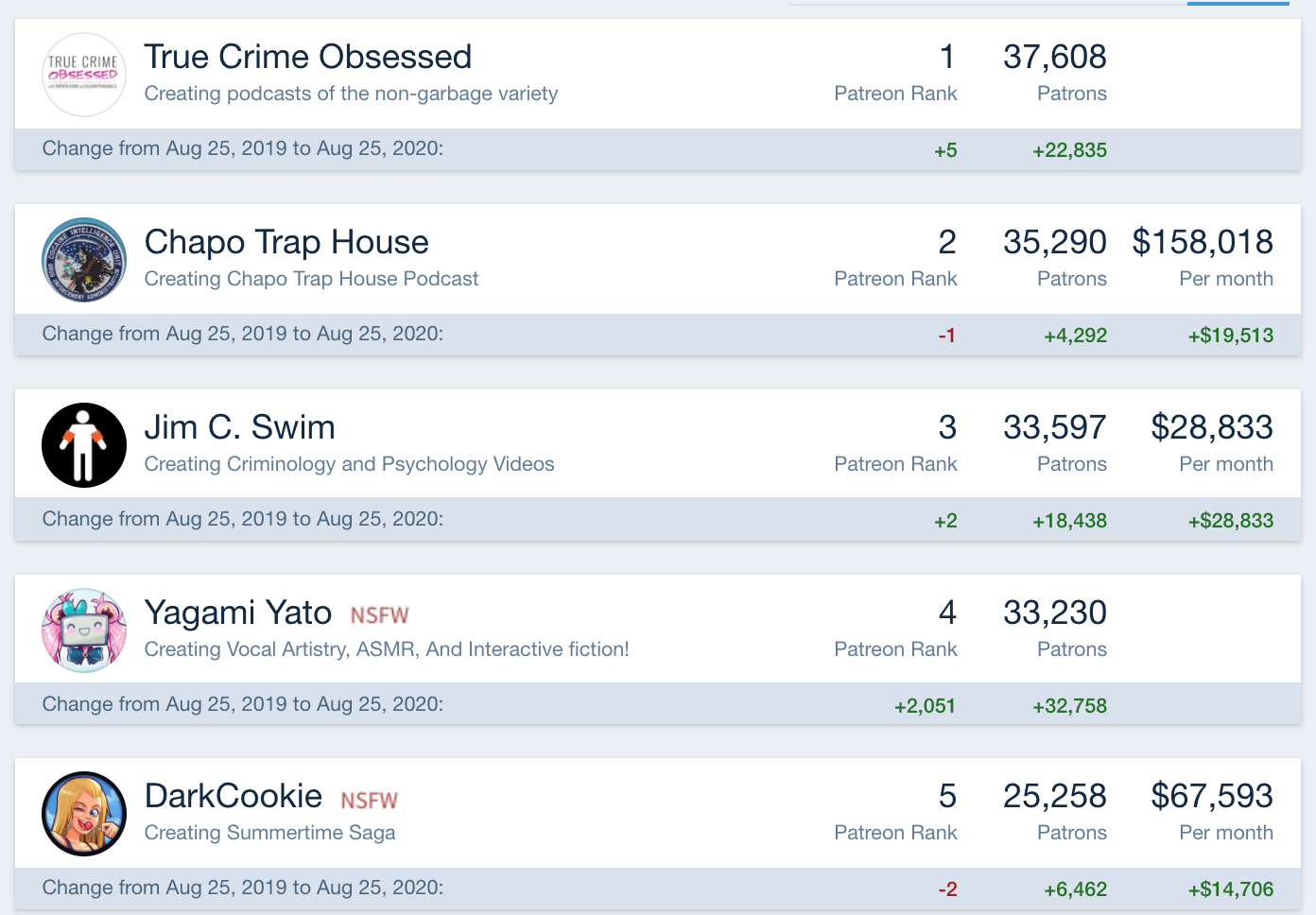 New digital platforms that highlight individuality
Unlike marketplaces who own the relationship with the customers and offer little room for creators to differentiate themselves, new digital platforms, according to Li Jin, "give providers greater ability to build customer relationships, increased support in growing their businesses." Like using the indie-focused e-commerce platform Shopify that allows merchants to set up their online store and interact directly with customers, instead of selling on the standardised, mass-produced monolith Amazon.
These new digital platforms are accessible to everyone, they view individuality as a feature, not a bug, focus on digital products and virtual services (like newsletters, podcasts, online courses…), and provide holistic tools to grow and operate a business.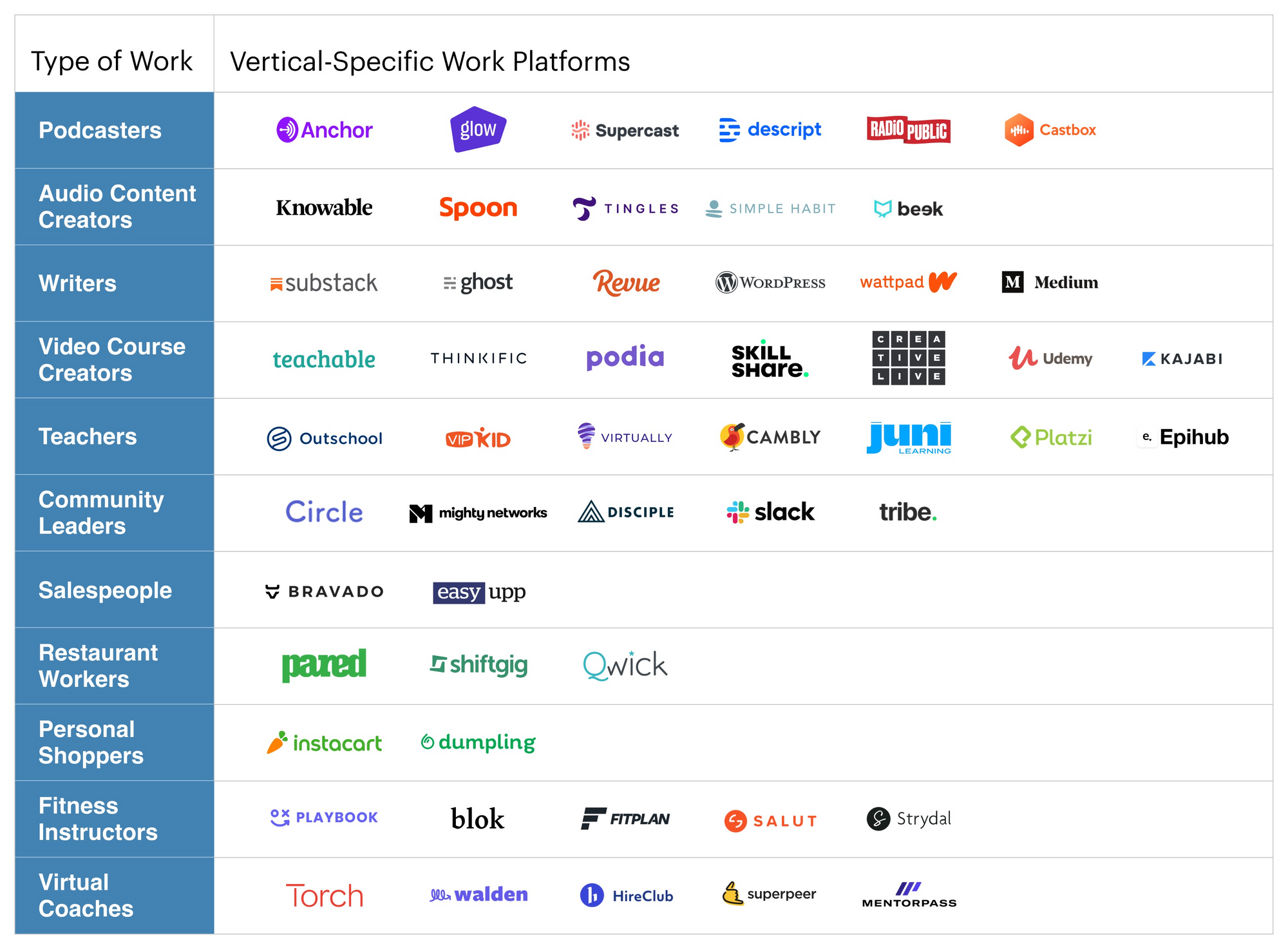 For example, Podia allows anyone to start a personalised online teaching business, taking care of video hosting, learning management and even offering multiple monetisation options like subscriptions and digital downloads, for $39 per month.
Opportunities for software engineers
If you've read this post so far, you're probably wondering what's in it for you. If you have a software engineering background, you might not be willing to start a comedy podcast or an independent online store (though this is how Shopify CEO Tobias Lütke got started). There are indeed multiple opportunities for software engineers to grasp in the new Passion Economy.
First of all, and most obviously, there are tools to make for creators. In her Unbundling Work from Employment essay, Li Jin identifies opportunities to build both vertical-specific platforms (like newsletter platform Substack) and horizontal platforms (like Gumroad). Venture Capital firm A16Z is currently quite bullish on Passion Economy platforms (they backed Substack and Run The World among others), and other firms will likely follow. Building SaaS platforms is also appropriate for bootstrapping.
There are also many opportunities for software engineers to become full-time creators while leveraging their popularity as developers, but the following three seem to be the most interesting:
1- Online Education: 34 of the 50 best selling topics on Udemy are technical topics (like Python, Web Development or Data Science). With the never-ending demand for developers and the need for older engineers to update their skills, the market for online technical education is growing at a fast pace. Teaching is an incredibly rewarding activity and allows you to maintain your technical level. It's even easier to move into teaching when you already have a community that follows you, like React developer Kent C. Dodds who left his job to become a full-time educator.
2- Open source software: did you know that just three developers have authored 73 per cent of Bootstrap commits?? In Working in Public, Nadia Erghbal points out how open source has skewed from a collaborative to a solo endeavour, with an increasing number of popular projects maintained by one or a handful of developers:
Open source developers have more in common with solo creators on Twitter, Instagram, YouTube or Twitch, all of whom must find ways to manage their interactions with a broad and fast-growing audience
That's why more and more open source maintainers, like Sindre Sorhus and Evan You, are turning to Passion Economy platforms to monetise their activity. According to his Patreon page, Evan You is making $15,485 per month to maintain front-end framework Vue.js.
3- Live coding: If I tell you Twitch, you will probably answer with something related to gaming streaming and eSports. But there are now many other streaming channels on Twitch, including programming. Jeffrey T. Fritz, a Program Manager for Microsoft, has 17,720 followers on Twitch and many more who join for is live coding sessions. Open Source authors Feross Aboukhadijeh and Kent C. Dodds (again) also have Twitch channels. While this trend is nascent, some programmers are taking the full-time streamer route, counting on fans donations, subscriptions and brand deals to make a leaving.
Summary
More and more individuals are taking advantage of digital platforms to make money off their unique skills
I believe opportunities will continue to grow significantly, thanks to more people buying online (especially from individuals), multiple monetisation opportunities for creators and new digital platforms focused on creators
Software engineers can also benefit from this new economy by building tools for creators or becoming creators themselves
Three creators' opportunities for software engineers: online education, open source software and live coding
Reading List
[ARTICLE] The Passion Economy and the Future of Work - Li Jin
[PODCAST] How the Passion Economy Is Redefining Work - a16z Podcast
[BOOK] The Million-Dollar, One-Person Business: Make Great Money. Work the Way You Like. Have the Life You Want - Elaine Pofeldt
[ARTICLE] The Passion Economy: Why Now? - Martin Anquetil
[BOOK] Working in Public: The Making and Maintenance of Open Source Software - Nadia Eghbal